ROLL OFF INFORMATION
| | | | |
| --- | --- | --- | --- |
| Size | Typical Dimensions | Estimated Capacity | Best suited for |
| 14 Yard | 14ft long x 8ft wide x 4ft high | 80-100 trash bags/4 pickup loads | Small renovation project |
| 20 Yard | 16ft long x 8ft wide x 4.5 ft high | 110-130 trash bags/6 pickup loads | Construction and demolition |
| 30 Yard | 22ft long x 8ft wide x 4.5ft high | 170-190 trash bags/9 pickup loads | New building construction |
| 40 Yard | 22ft long x 8ft wide x 8ft high | 230-250 trash bags/12 pickup loads | Large construction projects |
ZONE INFORMATION
Zone 1
Zone 2
Zone 3
Zone 4
Zone 5
Other
Shawville
Bryson
Davidson
Luskville
Allumette Island
Please call for a quote.
Clarendon
Calumet Island
Mansfield
Waltham
Chapeau
Bristol
Campbell's Bay
Fort-Coulonge
Chichester
Thorne
Litchfield
Ladysmith
Sheenboro
Norway Bay
Quyon
Otter Lake
Sheenboro
Sand Bay
Renfrew, ON
Arnprior, ON
Portage-Du-Fort
ZONE FEES
This fee includes 1 delivery, 1 week rental and 1 pickup.
Advance payment is required BEFORE the delivery.
| | |
| --- | --- |
| Zone 1 | 300 + tax |
| Zone 2 | 350 + tax |
| Zone 3 | 400 + tax |
| Zone 4 | 450 + tax |
| Zone 5 | 500 + tax |
| Other | Please contact |
We reserve the right to change our products prices at anytime without further notice.
Additional fees
$260.00 per metric tonne for the weight of the material
$100.00 weekly rental applies every 8th day of your rental
$70.00 per mattress and per box spring if found in your container
Fuel surcharge if you are located on the outskirts of your town/city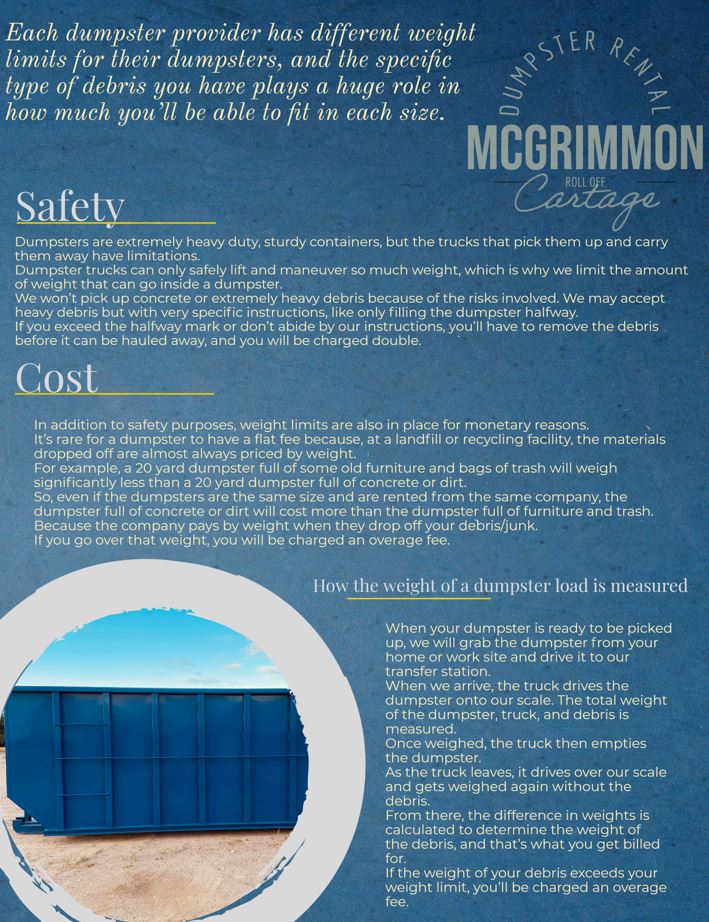 Payment methods
Credit Card
Cash/Debit/E-Transfer (Deposit of $1,000.00 is required for security reasons)
The total of your weight will be deducted off the $1,000.00, we will contact you if you have a credit or balance owing once we determine the weight of the material.
Rejected materials
Waste or hazardous material produced by commercial, industrial, institutional, and agricultural activities
Household hazardous waste
Contaminated earth and sand
Explosive material: explosives, weapons, dynamite, rockets, ammunition, grenades, propane tanks, etc.
Medical waste
Dead animals
Radioactive waste
Tires (must be returned to purchased location)
TIPS
The container must not be filled above the rim. In the winter, snow and ice must be removed from the container for materials to be collected.
You must mark your driveway with a clear "X" to indicate where you would like your container placed. Please remember to leave at least 8 feet of space to allow for the container door to swing open at rear of container.
Please complete our rental form if you are interested and send it to us by E-Mail or Fax.